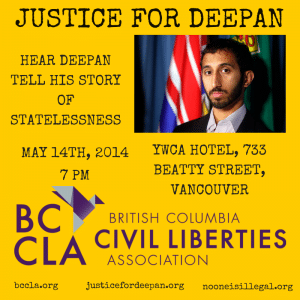 Wednesday, 14 May 2014, 7pm
YWCA Hotel, 733 Beatty Street, Vancouver
Hosted by BC Civil Liberties Association (BCCLA)
For years, Deepan Budlakoti has been fighting deportation. This isn't just a simple deportation case, it's complicated by the fact that Deepan was born and raised in Canada – the only home he's ever known. He spent his life under the assumption that he is a Canadian citizen, but the Canadian government is attempting to revoke his citizenship and deport him to his parents' native India arguing that his Canadian birth certificate and passport were issued "in error."
As he waits for a federal court date and a response from the UN on his legal status, Deepan is telling his story of fighting deportation and statelessness as he comes to Vancouver at our invitation. Join us, along with Justice for Deepan and No One Is Illegal-Vancouver Unceded Coast Salish Territories in hearing Deepan tell his extraordinary story.
The event will be held May 14th, 2014, 7 PM at the YWCA Hotel (733 Beatty Street, Vancouver).
————————
Accessibility: This building has about 10 stairs to the front entrance and a side ramp to the front entrance. The room is on the ground level with double doors. There are two wheelchair accessible bathrooms.