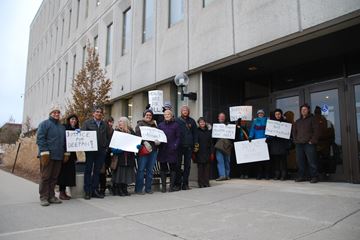 Kingston Heritage, 27 November 2014, Aric McBay
Rallies took place in Kingston and Toronto on Wednesday to support a man who has lost his citizenship and health-care coverage because of a legal loophole. Deepan Budlakoti was born in Canada in 1989 and granted Canadian citizenship, but his citizenship was revoked by the federal government in an extremely unusual act in 2010, leaving him stateless.
Mr. Budlakoti was recently informed by the Ontario Ministry of Health that as a stateless person they believed he was no longer entitled to health care; his OHIP coverage was revoked.
"Denying OHIP coverage to any person residing in the province of Ontario is needlessly cruel, and sets a dangerous precedent," said Melanie Spence, a doctor with Health for All. "Health is a basic human right, and the denial of health care coverage to any person should not be tolerated. OHIP should be made available to all Ontario residents, regardless of their immigration status."
Budlakoti and his lawyers challenged the Ministry's decision in a teleconferenced hearing Wednesday that took place simultaneously in Kingston, Ottawa, and Toronto. About two dozen supporters rallied outside the Ontario Government Building at 1055 Princess Street. While holding signs that read "Health care not deportation" and "Justice for Deepan," supporters chatted with several sympathetic passersby.
"What we're seeing here today with Deepan is not just the stripping of his citizenship, but taking away his health care," said Karl Flecker, former National Director of Human Rights for the Canadian Labour Congress (retired) and a member of the demonstration. "Is there not enough stress that people are under already? For what purpose? At what cost? I don't have the answers to those questions, but I know it's wrong. And I'd like to think that most of the people that I grew up with in my fifty-five years know that that's wrong."
Mr. Budlakoti's specific situation is very unusual. He was born in Canada in 1989, received an Ontario birth certificate and Canadian citizenship, and held his own Canadian passport. He has never had citizenship in another country. However, because of a legal loophole involving his parents' employment at the Indian Embassy, the federal government was able to revoke his Canadian citizenship in 2010, leaving him without citizenship in any country. He lacks access to public services and is not permitted to work.
The federal government argues that Mr. Budlakoti's trouble with the law as a young man justifies taking away his citizenship; he spent time in jail. However, Budlakoti's supporters point out that being convicted of a crime is not a reason to take away a person's citizenship or health care coverage, and that having already served his sentence Budlakoti is being doubly punished.
"I hope more people in Kingston ask: what is going on?" said Karl Flecker. "Does it matter that his name is Deepan Budlakoti? Does it matter that when he was a young teen he made some wrong choices? Paid for them? Did time? Turned out to be a stellar member of the criminal-judicial system?"
Being completely stateless is rare, but many people in Canada struggle for access to health care because of precarious immigration situations. And while gaining citizenship in the first place can be slow and difficult, advocates worry that the government's treatment of Budlakoti sets a new and dangerous precedent, and opens the door to stripping Canadian-born people of their citizenship based on the colour of their skin.
"We have a government in power that is really concerned with reshaping what Canada and Canadians look like according to their ideological view," explained Flecker. "So now what we have is the ability of the government to target people based on where they were born and where their parents were born."
Budlakoti will have to wait to hear the outcome of Wednesday's hearing. But Flecker encourages community members to take action. Supporters are raising money for health insurance for Budlakoti at justicefordeepan.org. And Flecker encourages people to send a message to Chris Alexander, Minister of Citizenship and Immigration: "Health care not deportation."
Flecker concluded: "Taking away people's citizenship is enormous. And taking it away for ideological reasons, for partisan and electoral gain at the expense of somebody's life and sense of home and community is not just egregious, it's evil."